Remote Control Head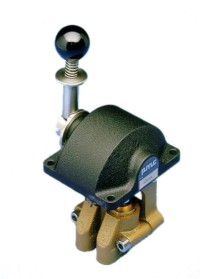 Type 5072/5073 SCH-AA
Dependable Precise Control
SCH-AA control heads provide remote control for applications requiring two on-off pneumatic signals.
Watertight
Completely watertight design allows outside installation.
Rugged Construction
Built to endure heavy use. All cams and detents have roller followers for reduced wear and smooth operation.
Safety Latch
Optional safety latch allows control lever to be locked in position.
Corrosion Resistant
SCH control heads are built with materials that are compatible with the hostile marine environment.
Versatility
Modular construction allows many configurations of cams and directional valves as well as many control handles in red or black. Covers are available with either chrome finish or black epoxy paint. The SCH-AA control head is also available with one pneumatic valve and one electric switch or two electric switches.
Dimensions above Console (without gasket)
| | |
| --- | --- |
| Width: | 110 mm |
| Length: | 106 mm |
| Height: | 130 mm (159 mm 'L' handle) |
---
Home
PRIME MOVER CONTROLS INC.
3600 GILMORE WAY, BURNABY B.C. CANADA V5G 4R8
TEL (604) 433-4644 FAX (604) 433-5570 email:info@pmc-controls.com