Remote Control Head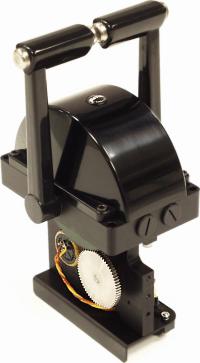 Type 5800-2000 MCH-EB
Dependable Precise Control
MCH-EB control heads provide remote control for a wide range of marine and industrial applications.
Single or Dual Lever
Many different control handles are available. A handle coupling mechanism is available for dual lever control heads.
Illumination
Optional illumination is available with a variety of scales.
Watertight
Completely watertight design allows outdoor installation, even on models with illumination.
Corrosion Resistant
MCH-EB control heads are built with materials that are compatible with the hostile marine environment.
Versatility
Modular construction allows many configurations in a compact unit. Single lever units can have limit switches installed An optional two-wire current loop module can be installed in the control head. It can provide either a 4-20 mA, 20-4 mA or 20-4-20 mA output proportional to handle position. The control head can accommodate one transmitter for each control lever in twin screw applications. For single control lever arrangements, switches can be incorporated and one or two transmitters can be fitted. Standard control lever movement is 140°.
Dimensions above Console (without gasket)
| | |
| --- | --- |
| Width: | 113 mm (131 mm two levers) |
| Length: | 156 mm |
| Height: | 155 mm (195 mm long levers) |
Typical Installation:
---
Home
PRIME MOVER CONTROLS INC.
3600 GILMORE WAY, BURNABY B.C. CANADA V5G 4R8
TEL (604) 433-4644 FAX (604) 433-5570 email:info@pmc-controls.com