Voyage Fuel Management System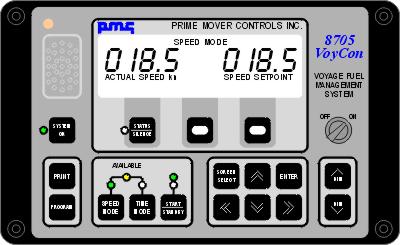 Type 8705 VoyCon
VoyCon is a voyage fuel management system designed to reduce fuel consumption. Based on PMC's 30 years experience in the field of marine automation and integration, the VoyCon design was optimized to meet the most stringent requirements demanded by marine applications.
The VoyCon easily integrates with other electronic, pneumatic and mechanic control systems. It is suitable for diesel engine and gas turbine propulsion configurations with CP propellers, fixed pitch propellers, water jets and azimuth Z drives for single and double ended vessels.
The VoyCon system consists of two major parts; 1) Local Operator Panel, 2) Central Hub Unit. Both parts are compact and rugged units which meet or exceed the requirements of marine classification authorities such as American Bureau of Shipping and Lloyd's Register of Shipping.
The Local Operator Panel(s) provides the user interface to control the VoyCon. This interface includes; a graphic LCD (Liquid Crystal Display), keypads, status lights, an alarm horn, voice update of status changes and a master disable switch for emergency disconnection. The LCD and keypads are illuminated and dimmable for night vision. Continuous voyage information is provided by the LCD and status lights including; vessel speed, distance traveled, fuel consumption, limits activated and system alarms. Up to four external devices, including: Doppler speed log, GPS and printer, can be connected to each panel. Connections to remote propulsion control heads and transfer systems can also be made to the local operator panel.
The Central Hub Unit is normally mounted in the engine room and is easily adapted to all major types of vessel propulsion configurations. The unit will monitor the fuel rack position, engine rpm, clutch status, pitch position and execute the fuel saving algorithms. Existing fuel monitoring equipment may be connected to the central hub unit, eliminating the need for redundant sensors and additional connections to machinery.
---
Home
PRIME MOVER CONTROLS INC.
3600 GILMORE WAY, BURNABY B.C. CANADA V5G 4R8
TEL (604) 433-4644 FAX (604) 433-5570 email:info@pmc-controls.com