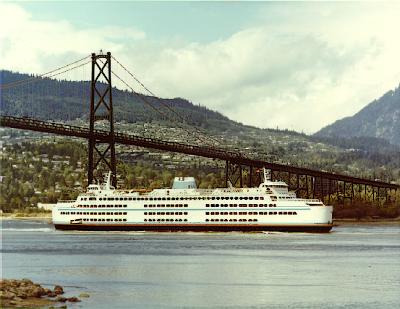 British Columbia Ferry Corporation
Five 139.3 m 'C' Class Double-Ended RO-RO/Passenger Ferries
MV Queen of Coquitlam
MV Queen of Cowichan
MV Queen of Oak Bay
MV Queen of Surrey
MV Queen of Alberni
The propulsion controls for all five of the double enders were designed and manufactured by Prime Mover Controls Inc.
All PMC control equipment was pre mounted, pre-piped to numbered bulkhead fittings and pre-wired to terminals relating to drawings for ease of shipyard connection. Testing of components and systems was performed before shipment to shipyard, and shipboard simulations were performed prior to sea trials. Other areas given consideration were environmental influences such as corrosion resistance, excessive vibration, extreme temperatures and component accessibility.
The propulsion machinery consists of two 6,000 hp diesel engines, four clutches, and one 12,000 hp CP propeller at each end.
This type of machinery arrangement gives greater maneuvering and operational versatility than conventional systems. Maneuvering with both propellers and rudders enables the ship to turn on its own axis, or move sideways in either direction.
During normal cruising both engines are coupled to one propeller; both propellers are utilized for operations that require maximum manoeuvrability.
It is well known that there are a number a basic elements in the propulsion system of a vessel. These elements have been designed, built and proven in the past by those companies which are expert in their individual fields. It falls upon the control system designer to incorporate all of these individual members so they operate as one integrated system.
The importance for the bridge control station to be simple, yet fast enough to be automatic in the mind of the operator, becomes apparent as the various modes of operations are considered.
This calls for logic in digital and analog control functions that will satisfy the propulsion element requirements in such a manner that it will yield maximum versatility, during operation, without jeopardizing reliability.
Particular attention was given to the precise power control requirements which dictated the necessity of automatic load control with maximum permissible loads, pitch and rpm trims. Automatic load sharing was also incorporated to satisfy the close tolerance required by the two engines sharing a common load.
Pictures
---
Home
PRIME MOVER CONTROLS INC.
3600 GILMORE WAY, BURNABY B.C. CANADA V5G 4R8
TEL (604) 433-4644 FAX (604) 433-5570 email:info@pmc-controls.com