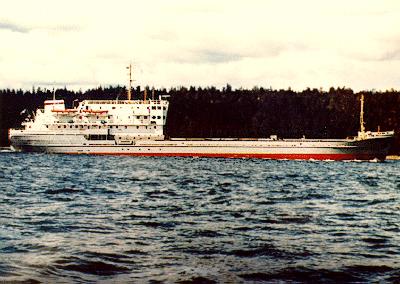 Five 95m Twin Screw River/Sea Cargo Training Vessels
MV Ivan Polzunov
All five of these river/sea cargo training vessels are using PMC pneumatic propulsion control systems. These twin screw vessels were built in Finland and the control systems were sold through the Finnish shipyard to Russia. PMC components and systems are also used on about 30 additional vessels in Russia.
The river/sea cargo training vessels have two control rooms on the bridge, each with three control stations. The master control room with the control transfer selector is at the top and the training control room is directly below.
The engines are direct reversing and drive fixed pitch propellers. One feature in the PMC system used for this application is that upon loss of air supply the propulsion continues in the last commanded direction.
---
Home
PRIME MOVER CONTROLS INC.
3600 GILMORE WAY, BURNABY B.C. CANADA V5G 4R8
TEL (604) 433-4644 FAX (604) 433-5570 email:info@pmc-controls.com