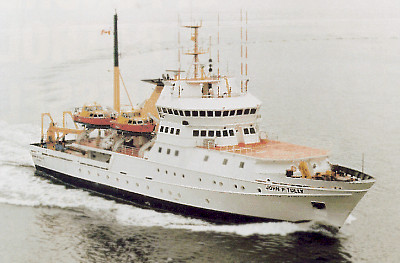 Canada - Dept. of Fisheries and Oceans
69 m Hydrographic Survey Vessel
Lloyds 100A1

Lloyds Ice Class 1* LMC-UMS
CSS John P. Tully
PMC equipment was selected for the Hydrographic survey Vessel, CSS John P. Tully, because of its high quality and superior performance. PMC's propulsion control system incorporates automatic load sharing and automatic load control. Provision is also made for main engine driven generator operation.
A graphic display mimic panel, forming an integral part of the engine control room console, displays the status of machinery for main propulsion, thrusters, and electrical power generation.
PMC also manufactured the bridge and engine room control consoles, the Type 8201 propulsion telegraphs, and the Type 8010 navigation light control panel.
Pictures
---
Home
PRIME MOVER CONTROLS INC.
3600 GILMORE WAY, BURNABY B.C. CANADA V5G 4R8
TEL (604) 433-4644 FAX (604) 433-5570 email:info@pmc-controls.com