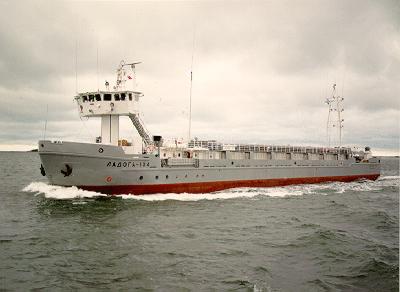 Northwest River Shipping Company, St Petersburg
Eight 82.5 m Cargo Vessels
RRS, DNV Type Approved
Ladoga (101 - 108)
The PMC propulsion control system includes three bridge stations, each with separate remote control heads for port and starboard. The remote control heads are connected between stations by means of an electric shaft system. The bridge center control heads each drive a servo pneumatic control unit in the engine room. Two Type RCH-VAA pneumatic control heads, located at the engine control room station provide the same output signals as the servo pneumatic control units.
The MPC-3H logic and control panel in the engine room is the heart of the pneumatic control system. It provides necessary logic, interlocks and timing to operate the propulsion machinery smoothly and safely. PMC shaft brakes are included to minimize the time delay during reversals and also to function as holding brakes.
A separate port and starboard main engine power reduction function is provided to allow externally defined parameters to automatically reduce power to a predetermined level. A power reduction override feature is also provided.
The electric portion of the propulsion control system is designed with several levels of fail-safe back-up in order to provide a very high degree of safety and reliability.
The port and starboard control systems are designed to be completely separate, both electrically and pneumatically. Electrical power is separated into the following groups, each requiring one independent 24 VDC power source.
Port control system
Starboard control system
Display system
Emergency telegraph system (primary and emergency)
A power supply failure in the port or starboard control system is backed up by the independent emergency telegraphs.
In case of remote control failure, a final stage of backup is provided by two PMC Type 8201 emergency pushbutton telegraphs and direct mechanical control of governor speed setting and clutch actuation. In this situation the display system remains active.
Pictures
---
Home
PRIME MOVER CONTROLS INC.
3600 GILMORE WAY, BURNABY B.C. CANADA V5G 4R8
TEL (604) 433-4644 FAX (604) 433-5570 email:info@pmc-controls.com