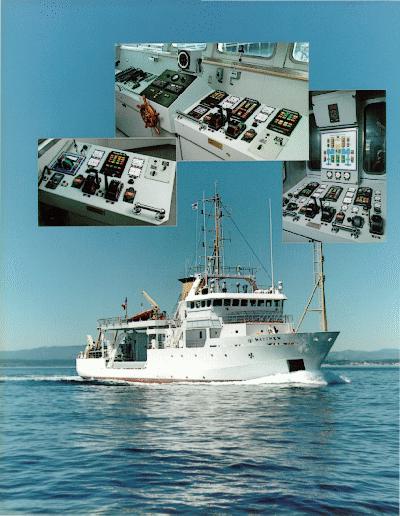 Canada - Dept. of Fisheries and Oceans
51.3 m Hydrographic Survey Vessel
Lloyd's Class 100 A1 "Survey Vessel"
CSS Matthew
Prime Mover Controls Inc. designed and manufactured the four propulsion control consoles, which incorporate the ships controls and instrumentation. The PMC propulsion control system includes three bridge stations as well as a sound-proof booth which contains the main engine control station and engineer's desk.
PMC's electric shaft system is used for remote control from the bridge. Control levers at all stations are moved simultaneously so that no manual resetting of levers is necessary when transferring from one control station to another. PMC's auto-transfer feature allows control transfer simply be moving the control lever at the desired station.
The bridge electric shaft systems drives motor driven pneumatic control units in the engine room console. These control units provide the command signals for the pneumatic control system. PMC PCA-10 pitch controllers maintain optimum loading on the engines by means of automatic load control.
A PMC mimic panel in the engine room console displays the status of machinery for main propulsion and electrical power generation. The mimic panel includes lighted pushbuttons for main engine start and stop, as well as clutch control.
The microprocessor based control transfer system features a 3-stage transfer from engine room to bridge (Request - Enable - Accept). In an emergency, immediate return transfer to the engine room can be undertaken from the engine room station at any time, causing warning alarms at all bridge stations.
The PMC Type 8201 pushbutton telegraph system provides emergency orders between the center bridge station and engine control room. These solid-state, microprocessor based units include the nine standard telegraph orders. They also include functions for bridge control and lamp test as well as power failed and wrong direction indicators. An additional feature is a separate and independently operating group of orders for standby, cancel standby and finished with engines.
The navigation lights are controlled and monitored in the bridge be a PMC Type 8010 navigation light control panel. This solid-state electronic panel continuously monitors the status of the remote navigation lights whether the lights are turned on or off. A visual and audible alarm is activated if a lamp, fuse or circuit fails. Dual power sources are also monitored and alarmed when either fails.
PMC also supplied Type 8502 uni-directional rpm systems which display shaft and engine rpm on analog meters in the bridge and engine room stations.
---
Home
PRIME MOVER CONTROLS INC.
3600 GILMORE WAY, BURNABY B.C. CANADA V5G 4R8
TEL (604) 433-4644 FAX (604) 433-5570 email:info@pmc-controls.com