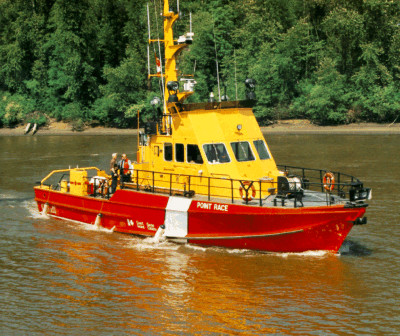 Canada - Coast Guard
Two 21 m Type 400 Search and Rescue Vessels
CCGS Point Race
CCGS Point Henry
The new propulsion control system on these twin screw vessels was designed and manufactured by Prime Mover Controls Inc. The upper bridge and wheelhouse were fitted with flush mounting console plates that contain the propulsion controls, instrumentation and alarms. An enclosure containing the local instrumentation and the PMC alarm annunciator was fitted in the machinery space.
The master propulsion control station is located in the wheelhouse.
A heart of the propulsion control system is the PMC Type MPC-11 modular propulsion control panel. The MPC-11 provides an adjustable timed power boost for clutch engagement, controlled acceleration/deceleration of engine speed, and dynamic braking. Dynamic braking uses the engine and propeller to slow the speed of the vessel before reversal takes place.
The PMC supplied instrumentation consists of complete analog engine/gearbox temperature and pressure gauges and digital exhaust temperature gauges located in the wheelhouse. PMC also supplied Type 8118 digital tachometers for shaft and engine speed, located in the upper bridge, wheelhouse, and the local engine room panel.
The PMC alarm system consists of a 32 point Type 8001 machinery alarm panel located in the machinery space, a 32 point Type 8101 bridge repeater panel located in the wheelhouse, and a single point group alarm repeater located in the upper bridge. The alarm system uses two wire communication between the engine room and the bridge alarm repeater panel.
Pictures
---
Home
PRIME MOVER CONTROLS INC.
3600 GILMORE WAY, BURNABY B.C. CANADA V5G 4R8
TEL (604) 433-4644 FAX (604) 433-5570 email:info@pmc-controls.com