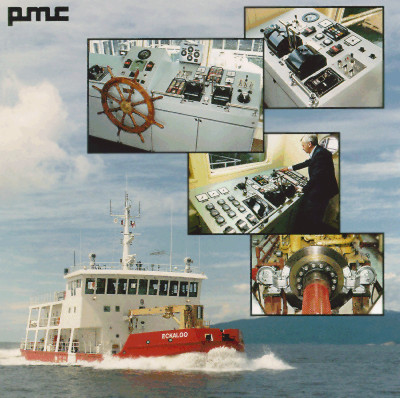 Canada - Coast Guard
48.8 m Type 700 Special River Navaids Tender
CCGS Eckaloo
PMC's dedication to system details is one of the main reasons our propulsion controls and monitoring equipment were chosen for the Type 700 Navigation Aids Vessel, CCGS Eckaloo. The control system includes PMC Type MPC-3H pneumatic logic and control panels which provide logic, interlocks and timing to operate the propulsion machinery smoothly and safely, as well as PMC maneuvering shaft brakes which minimize reversing time delays. Other PMC equipment provided for this vessel includes propulsion control consoles, Type 8421 alarm annunciators, Type 8201 propulsion telegraphs, Type 8502 engine and shaft rpm displays and a Type 8010 navigation light control panel.
---
Home
PRIME MOVER CONTROLS INC.
3600 GILMORE WAY, BURNABY B.C. CANADA V5G 4R8
TEL (604) 433-4644 FAX (604) 433-5570 email:info@pmc-controls.com