Type 5500-5000 DCH REMOTE DISPLAY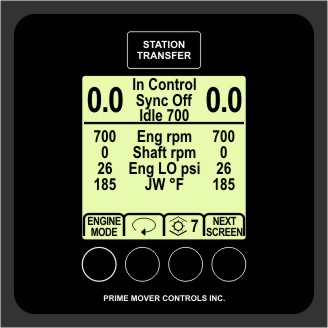 The Type 5500-5000 DCH Remote Display is required when using control heads other than the Type 5500 DCH in Type 85500-2000 MPC-D and Type 8550-3200 MPC-CP propulsion control systems. The remote display accepts lever position outputs from the control heads and provides the interface with the control boxes.
A dimmable multi-function screen provides display of control and machinery status in imperial or metric units. Four soft buttons and one dedicated station transfer button complete the user interface. Screens can be configured to display the most basic system information or more comprehensive data.
Items for display include: control system displays and alarms, control lever position, transfer status, engine operating parameters available from the engine serial link and shaft rpm (optional). Gear engagement is available for fixed pitch systems and pitch indication is available for controllable pitch systems.
Features
Backlit, dimmable, 160 x 160 pixel graphical LCD
Control and machinery status display (metric or imperial) and integral horn
Shaft rpm and engine rpm are available on each LCD
Gear engagement is available for fixed pitch systems
Pitch indication is available for controllable pitch systems
Four membrane buttons with intuitive software menu in plain English
Dedicated station transfer button
Station in command outputs for connection to auxiliary stations
Specifications
Supply:
Redundant power inputs
Nominal 12 VDC or 24 VDC, max 9 VDC to 36 VDC
Typical 175 mA @ 24 VDC
Peak 250 mA @ 24 VDC
Environmental:
Operating temperature -5 °C to +70 °C
(Optional extended range from -25 °C to + 70 °C)
Storage temperature -30 °C to +80 °C
Protection classification IP66 above console, IP43 below console
Meets or exceeds marine classification and regulatory requirements for Electromagnetic Compatibility, Vibration, Temperature, Humidity and Voltage Variation
Physical:
Dimensions 116 mm L × 116 mm W × 96 mm H (without gasket)
(4.6" L × 4.6" W × 3.8" H)
Weight 0.5 kg (1.4 lbs)
Removable terminal blocks for 14 to 20 AWG wires
Inputs/Outputs:
4 lever position sensor inputs
3 optically isolated nominal 24 VDC inputs
3 open collector outputs 0.5 A @ 24 VDC
9 open collector input/outputs 0.5 A @ 24 VDC
3 RS 485 communication ports
Typical Installations

---
Home
PRIME MOVER CONTROLS INC.
3600 GILMORE WAY, BURNABY B.C. CANADA V5G 4R8
TEL (604) 433-4644 FAX (604) 433-5570 email:info@pmc-controls.com