Marine Propulsion Controls
DIGITAL SYSTEM FOR VESSELS WITH FIXED PITCH PROPELLERS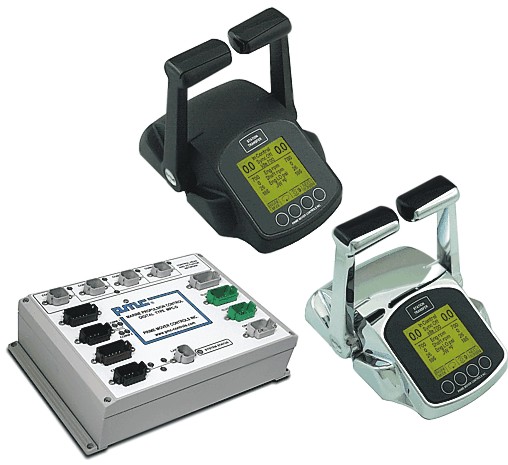 Type 8550-2000 MPC-D
New Propulsion Control System Type MPC-D from Prime Mover Controls
For more than three decades PMC has been a leading supplier of high quality control components and systems to the global market place. Today, proven PMC equipment can be found on virtually all types of vessels, including the most complex.
The vast experience gained from these installations combined with extensive system knowledge has been applied in the development of the MPC-D system.
The latest proven digital electronics are utilized along with a LCD panel integrated in each control head. Multiple redundancies and features have been implemented to accommodate a wide variety of applications. The design of this system has inherently improved performance, reliability and reduced costs.
General Features

Maximum performance without compromise
Aesthetic design
Ergonomic
Versatile
Economical
Electronic engine link
Electronic gearbox link
Electronic trolling valve link
Actuator links
Shaft brake link
Gear shift and throttle sequencing
Synchronizing
Safety interlocks
Station transfer
Multi-functional display and horn at each station
Redundant engine and gearbox control
Redundant control lever position sensing
Redundant power
Redundant communication
Redundant components monitored internally
Watertight components and connectors
Serial communication reduces wiring
Factory pre-assembled cables
Simple keypad or computer setup
Self diagnostics
Historical event logging

Optional Features

The electric shaft option simulates a mechanical interconnection between the control head levers. Moving the lever at the station in command causes all other levers in the system to follow. This provides continuous alignment with the commanding lever position at all stations. Because all levers are continually aligned, control transfer between stations is smooth and "bumpless".
Extended low operation temperature range available for outdoor stations.

Operating Features

Single lever combined speed and clutch control
Available for single and multiple screw vessels
Lever line-up transfer interlock with override
Transfer lock to prevent accidental transfer to remote stations
Engine warm-up mode
Vessel slow speed mode
Trolling valve control with selectable engine rpm settings
Synchronizing for electronic or mechanically governed engines
Proportional reversing delay interlocks
Proportional throttle boost
Controlled acceleration / deceleration
Clutch oil pressure throttle interlock
Neutral start interlock
Shaft brake control with multiple timing features

Safety Features

System accepts redundant power sources with internal switching and continuous monitoring
Each control lever features a primary and secondary position sensor which is continuously monitored for drift and failure
Back-up link between the port and starboard MPC-D control units allows control of both engines and clutches using only one MPC-D
Full diagnostic capability from MPC-D and DCH control head
Fault output to vessel alarm system
Engine data link pass-through to vessel alarm system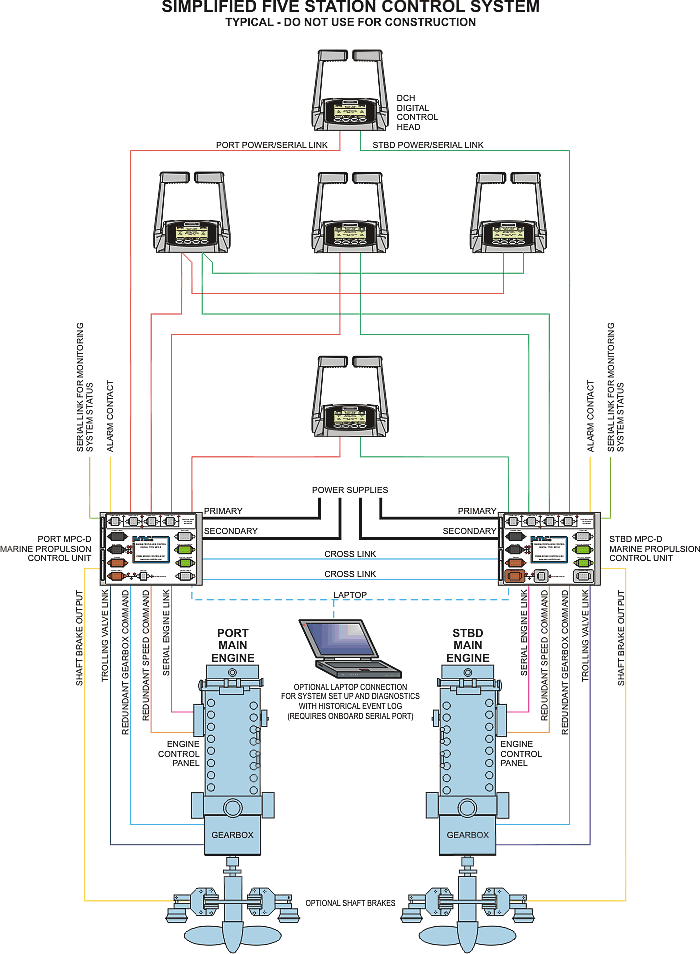 ---
TYPE 5500 DCH DIGITAL CONTROL HEAD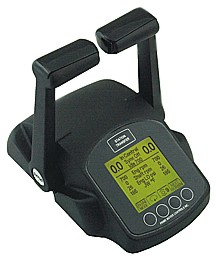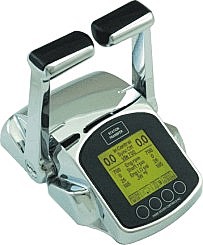 Specifications
Supply:
Nominal 12 VDC or 24 VDC, max 9 VDC to 36 VDC
Typical 175 mA @ 24 VDC
Environmental:
Operating temperature -5 °C to +70 °C
(Optional extended range from -25 °C to + 70 °C)
Storage temperature -30 °C to +80 °C
Protection classification IP66 above console, IP43 below console
Meets or exceeds marine classification and regulatory requirements for Electromagnetic Compatibility, Vibration, Temperature, Humidity and Voltage Variation
Features

Backlit, dimmable, 160 x 160 pixel graphical LCD
Control and machinery status display (metric or imperial) and horn in each control head
Shaft rpm indication is available on each control head LCD
Four membrane buttons with intuitive software menu in plain English
Dedicated station transfer button
140° control lever travel
Housing and control levers available in black powder coat or chrome finish
Custom colors available
Optional electric shaft
Optional station in command outputs for connection to auxiliary stations

Sample LCD display

Dimensions above Console (without gasket)

Width:
Length:
Height:
149 mm
200 mm
157 mm

---
TYPE 8550 MPC-D MARINE PROPULSION CONTROL UNIT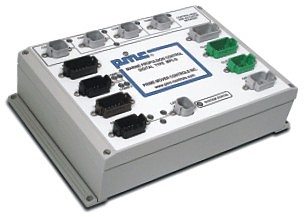 Specifications
Supply:
Nominal 12 VDC or 24 VDC, max 9 VDC to 36 VDC
Typical 150 mA @ 24 VDC (not including connected items)
Environmental:
Operating temperature -25 °C to +70 °C
Storage temperature -40 °C to +85 °C
Protection classification IP54
Meets or exceeds marine classification and regulatory requirements for Electromagnetic Compatibility, Vibration, Temperature, Humidity and Voltage Variation
Features
Accepts up to 15 stations for Type 5500 DCH Control Heads and Electro-Mechanical Actuators
Connects directly to standard J1939, J1587/1708 and proprietary serial links for reading internal engine parameters
Serial link for monitoring system status
Other PMC control heads can be used with the MPC-D control system when a Type 5500-5000 DCH Remote Display is used
Downloads
| | |
| --- | --- |
| | MPC-D System Product Bulletin SSB-001-8550-2000 |
| | MPC-D Installations SB-0-2-0022 |
| | Tug MPC-D Installations SB-0-2-0025 |
| | MPC-D Serial Output SB-8550-1-02 |
| | Fixed Pitch Propeller Controls Questionnaire F-164 |
Typical Installations

Yachts

49.7 m MY Thetis
2 x Cat 3512B (1678 kW) engines
ZF7000 gearbox with trolling


47.5 m MY Slojo
2 x Cat 3508 (969 kW) engines
WAF542 gearbox, shaft brake


47.0 m MY Arethusa
2 x Cat 3512 (1678 kW)
MM W-7000 gearbox


46.0 m MY Katya
2 x Cat 3508 (746 kW) engines
WAF542 gearbox with trolling, shaft brake

45.7 m MY Ingot
2 x Cat 3508B (746 kW) engines
WVS430 gearbox

43.3 m MY Richmond Lady
2 x Cat C32A (1343 kW) engines
ZF3055 gearbox with trolling

42.1 m MY Status Quo
2 x Cat 3512B (1678 kW) engines
ZF7549 gearbox with trolling

37.5 m MY Marama
2 x Cat 3412 (485 kW)
WAF274, shaft brake

33.0 m MV Spirit 33
2 x Cat 3412E (1044 kW) engines
ZF1900 gearbox

33.2 m Calixas 105
2 x Cat 3406E (354 kW) engines
ZFW325 gearbox with trolling

23.6 m MY Nylec & MY Le Popotine
2 x Cat C30 (1156 kW) engines
ZF2050 gearbox
Main helm position

21.3 m MY Polaris
2 x Cat 3406E (597 kW) engines
MG5114RV gearbox
Ferries

77.7 m MV Island Home
2 x EMD 12-710G7B (2240 kW) engines
WAF3445K gearbox

71.6 m MV LeConte
2 x EMD 645E7C (1581 kW) engines
RHS-3622K gearbox, shaft brake

55.2 m MV Lituya
2 x Cat 3508B (748 kW) engines
MG5301 gearbox, shaft brake

54.8 m MV Hatteras
2 x Cat 3412E (404 kW) engines
MG5202 gearbox
Freighters / Supply Vessels / Tug Boats / Workboats

83.2 m MV Sloman Rover
2 x Deutz SBA12M528 (1060 kW) engines,
AV2200 gearbox

18.3 m Cates 6 & Cates 7
2 x MTU 8V4000 (671 kW) engines
MG-540 gearbox

18.2 m Seaspan Tempest
2 x Cummins KTA-38 (634 kW)
MG-540 gearbox

18.2 m Seaspan Venture
2 x Cummins KTA-38 (634 kW)
MG-540 gearbox


16.2 m Cates 18
2 x MTU S60 (399 kW) engines
MG516DC gearbox

14.2 m Seaspan Scout
2 x Mitsubishi S12R-MPT (880 kW) engines
BW461 gearbox, shaft brake

---
Home
PRIME MOVER CONTROLS INC.
3600 GILMORE WAY, BURNABY B.C. CANADA V5G 4R8
TEL (604) 433-4644 FAX (604) 433-5570 email:info@pmc-controls.com