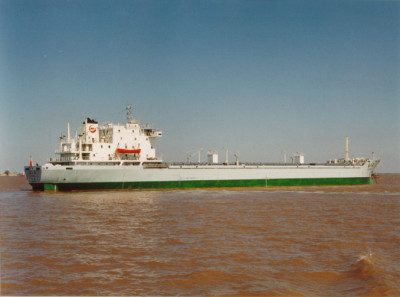 Wuhu, China
Two 153 m Twin Screw River/Sea Cargo Vessels
China Classification Society Approvals
Chun Jiang Hai
Man Jiang Hai
The PMC propulsion control system has three propulsion control stations. The Local Control Station provides separate speed and clutch control. The Central Control Station is the engineer's main control station. The Bridge Control Station is the remote control station on the bridge.
The control system is primarily a pneumatic control system. The pneumatic control signals originate from two PCH-VAA-EST electric shaft control heads in the Central Control Station console. When in Bridge Control Station control, the control heads are electrically driven from the dual lever electric control head in the Bridge Control Station.
The MPC-9H logic and control panel in the engine room is the heart of the pneumatic control system. It provides logic, interlocks and timing to operate the propulsion machinery smoothly and safely. The PMC shaft brakes minimize the time delay during reversals. They also function as holding brakes.
The propulsion control system is designed with several levels of fail-safe back up in order to provide a very high degree of safety and reliability.
Pictures
---
Home
PRIME MOVER CONTROLS INC.
3600 GILMORE WAY, BURNABY B.C. CANADA V5G 4R8
TEL (604) 433-4644 FAX (604) 433-5570 email:info@pmc-controls.com