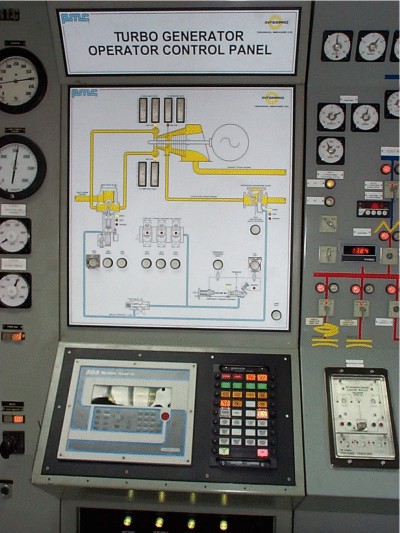 Harmac Pacific
Steam Turbine Control System
PMC worked with Interpro to retrofit this Steam Turbine Control System. Components included in the system are:
Other steam turbine control systems
---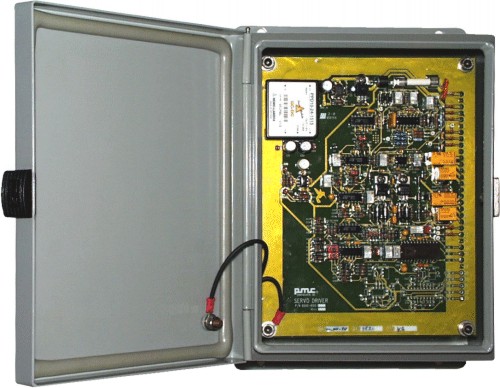 Type 8500-1100
The PMC Type 8500-1100 Final Servo Driver is a closed loop controller that is designed to drive signals to a servo valve for positioning hydraulic actuators. It uses a 4-20 mA signal for position command and an LVDT signal for position feedback.
FEATURES
over / under current failure detection alarm contact with a feature that drives the actuator to zero on failures
non follow up alarm contact output with adjustable set point and time delay
actuator position output for driving remote indicators
actuator error output for driving remote indicators
adjustable zero, span and stability adjustments
force actuator to minimum and maximum position switches for calibration
feedback options:

half bridge LVDT
full bridge LVDT
4-20 mA

500 V isolated input power supply feeds
SPECIFICATIONS:
Supply:
nominal 24 VDC, range 15 to 38 VDC
reverse and over voltage protection to 120 VAC
¼ A quiescent, ½ A nominal
input power fuse 1 A type ABC-1
Output:
100 mA max, servo valve
10 mA max, actuator position
10 mA max, actuator error
+24 VDC, 0.5 A nominal, 3 A max
Environmental:
Operating temperature -20 to +70°C
Storage temperature -40 to +85°C
Vibration: Frequency range 2 to 100 Hz
Velocity peak to peak 2 mm below 13.2 Hz
Acceleration amplitude 0.7 g above 13.2 Hz
Physical:
NEMA 12 case
Dimensions:
290 mm L × 203.2mm W × 114 mm H
(11.4" L × 8" W × 4.5" H)
Weight, typical 3.4 kg (7.5 lbs)
Diagnostics:
2 x over/under current failure, Form C contacts, 1 A@ 30 VDC
2 x non follow up failure, Form C contacts, 1 A @ 30 VDC
±15 VDC OK indicators
failure LED indicators
---
Home
PRIME MOVER CONTROLS INC.
3600 GILMORE WAY, BURNABY B.C. CANADA V5G 4R8
TEL (604) 433-4644 FAX (604) 433-5570 email:info@pmc-controls.com