Pneumatic Propulsion Control Head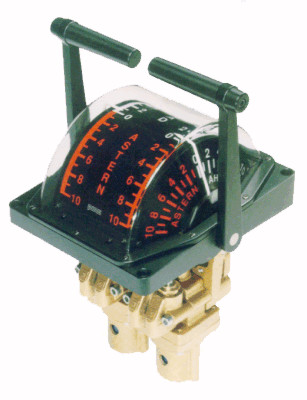 Type 5402 PCH
Dependable Precise Control
PCH propulsion control heads provide remote control for a wide range of single or twin screw marine applications.
Versatile Design
Modular construction allows many configurations of pressure regulators and directional valves with single or dual levers. PCH pneumatic control heads are available with electric shaft systems, telegraph systems, electric controls and many other options. Standard control lever movement is 140°.
Rugged Construction
Built to endure heavy use. All cams and detents use roller followers for reduced wear and smooth operation. A rugged adjustable friction brake eliminates creep.
Illumination
Dimmable illumination with incandescent bulbs. Choose from a variety of standard scales, or have PMC design a custom scale to suit your needs.
Watertight
Completely watertight design allows outdoor installation.
Corrosion Resistant
PCH control heads are built with materials that are compatible with the hostile marine environment.
Dimensions above Console (without gasket)
| | |
| --- | --- |
| Width: | 233 mm (247 mm two handles) |
| Length: | 260 mm |
| Height: | 211 mm |
PCH Configurations
| | | |
| --- | --- | --- |
| Type | Description | Typical Applications |
| PCH-V | One variable pressure signal | Brake control or engine speed control |
| PCH-VAA | One variable pressure signal and two on-off (AHD/AST) signals | Pitch & speed control for CPP, or clutch & speed control for fixed pitch propellers |
| PCH-2V | Two variable pressure (AHD/AST) signals | Thruster control, hydraulic slip clutch control or winch control |
| PCH-VSS | One variable pressure signal and two normally open switch contacts | Same as PCH-VAA but used with solenoid valves for on-off signals to minimize time delays |
| PCH-VA | One variable pressure signal and one on-off signal | Single clutch and throttle control |
---
Home
PRIME MOVER CONTROLS INC.
3600 GILMORE WAY, BURNABY B.C. CANADA V5G 4R8
TEL (604) 433-4644 FAX (604) 433-5570 email:info@pmc-controls.com