Electric Propulsion Control Head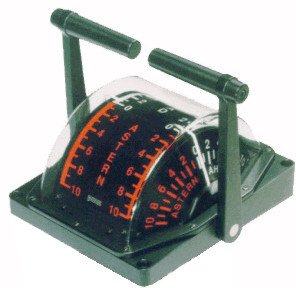 Type 5400 PCH
Dependable Precise Control
PCH propulsion control heads provide remote control for a wide range of marine and industrial applications.
Versatile Design
Modular construction allows many single or dual lever configurations. PCH control heads are available with electric shaft systems, telegraph systems, pneumatic controls and many other options. Many configurations of control heads are available which combine more than one of the these systems. Standard control lever movement is 140°.
Electric Controls
The PCH electric control head is available with up to 4 switches and 8 potentiometers on each lever (8 switches and 16 pots on single lever heads). Plug-in style terminal blocks allow the control head or the printed circuit board to be removed without disturbing the wiring connections.
A 4 to 20 mA two wire transmitter is available for precise lever position transmission. The control head can accommodate up to three transmitters, or two transmitters with up to four switches per control lever in twin screw applications. For single control lever arrangements, up to six transmitters, or four transmitters with up to eight switches can be fitted. Modular construction allows many output configurations, such as 20 to 4 mA and 20 to 4 to 20 mA.
Illumination
Dimmable illumination with easily replaced incandescent bulbs. Choose from a variety of standard scales, or have PMC design a custom scale to suit your needs.
Watertight
Completely watertight design allows outdoor installation.
Corrosion Resistant
PCH control heads are built with materials that are compatible with the hostile marine environment.
Dimensions above Console (without gasket)
| | |
| --- | --- |
| Width: | 233 mm (247 mm two handles) |
| Length: | 260 mm |
| Height: | 211 mm |
Typical Installation
---
Home
PRIME MOVER CONTROLS INC.
3600 GILMORE WAY, BURNABY B.C. CANADA V5G 4R8
TEL (604) 433-4644 FAX (604) 433-5570 email:info@pmc-controls.com