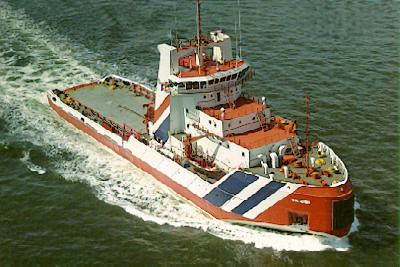 Gulf Canada Resource Inc, BeauDril Ltd.
Two 78.9m Icebreaker/Supply/Tug
Canadian Ministry of Transport, Home Trade 1, Arctic Ice Class 4 and Lloyd's Register of Shipping

100A1 Ice-Breaker/Tug/Offshore Supply Vessel
MV Miscaroo
MV Ikaluk
Prime Mover Controls Inc. manufactured the Miscaroo's five propulsion control consoles and two winch control consoles incorporating the ship's controls and instrumentation. The PMC propulsion control system involves four remote stations on the bridge as well as the main engine control room station. The control system includes interlocks, necessary logic, maximum rpm, pitch, load sharing and load control trims for the main propulsion system as well as provision for constant speed operation when in generator mode. Also a separate port and starboard rpm control head is incorporated at each control station. PMC Type PCA-2L pitch controllers were used to ensure maximum propulsion versatility and fast, stable automatic load control to maintain optimum loading on the engines. In order to protect the engine during extended periods of icebreaking, special torque control features have been incorporated in the propulsion control system. Automatic load sharing was also incorporated to satisfy the close tolerance required by four engines driving two propellers.
All critical machinery functions are continually monitored by a PMC alarm annunciator system, with 128 alarm points and additional remote display of group faults on the bridge. Providing visual and audible output of fault status, this solid-state, fully programmable warning system offers high reliability as well as ease of service with interchangeable, identical plug-on modules.
Over 400 motor and machinery controls, displays and alarms were implemented by PMC's UDC, Universal Display and Control units, which allow relatively compact console designs. The same display concept was used in the design of the 'mimic' panel provided with the engine control room console.
The Type 8201 propulsion telegraph system, which provides emergency orders between the forward bridge station and engine control room, was another PMC product used on the vessel. These solid-state, microprocessor-based units are unique in that they not only provide the traditional propulsion orders, but also include a separate independent group for a standby, cancel standby and finished with engines.
The running lights on the Miscaroo are controlled and monitored in the wheelhouse by a Type 8010 navigation light control panel designed and built by Prime Mover Controls Inc. This panel continuously monitors the status of the remote navigation lights even when they are turned off, and provides a visual and audible alarm when a lamp, fuse or circuit fails. Dual, selectable input power sources are also monitored and alarmed when either fails.
Pictures
The Arctic vessels, the Ikaluk and the Miscaroo are two of the most powerful supply vessels in the world.
PMC's system responsibility includes controls, consoles, monitoring and instrumentation.
ILLUSTRATED HERE ARE SOME OF THE VESSELS BUILT FOR THE CANADIAN ARCTIC FITTED WITH PMC CONTROLS
PMC's control design is based on performance and reliability. This is why PMC has more marine control and monitoring systems as well as complete control consoles in use in the Canadian Arctic than any other manufacturer. Click on the thumbnails below to see the full-size pictures.

Ikaluk in floating drydock

Arctic Nanook

Arctic Nutsukpok breaking ice

Arctic Surveyor

Arctic Hooper and Arctic Taglu


Forward and Aft bridge control stations aboard the Arctic Hooper and Arctic Taglu showing PMC's Type UCH Remote Control Heads


CANMAR Tugger ice-strengthened tug

CANMAR Supplier Deepsea Anchor Handling, Icebreaking, Tug, Supply Vessel. One of four sister ships.

CANMAR Supplier 8 Shallow Draft Supply Vessel with Forward Loading Ramp

Vessels at work in the Canadian Arctic
---
Home
PRIME MOVER CONTROLS INC.
3600 GILMORE WAY, BURNABY B.C. CANADA V5G 4R8
TEL (604) 433-4644 FAX (604) 433-5570 email:info@pmc-controls.com