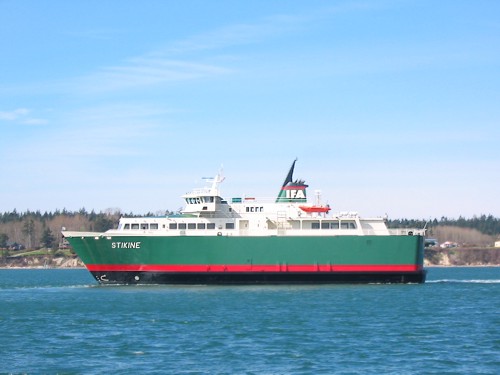 Alaska's Inter-Island Ferry Authority
60.4 m RO/RO Ferry
MV Stikine
This vessel is equipped with the following PMC products:
INTEGRATED MACHINERY, ALARM and CONTROL SYSTEM, IMACS

distributed control and monitoring system

Type 8421 Universal Display and Control Panels

Type 5800 MCH-E control heads

D-MaC Digital Marine Control

Drop-in propulsion control and instrumentation plates
The propulsion control system for the M/V Stikine is a dual-mode PMC D-MaC (Digital-Marine Control). The controls include hybrid combinator mode and split mode for control of the two Cat 3512 engines driving Hundested controllable pitch propellers.
In the hybrid combinator mode, minimum engine speed can be raised simply by increasing the appropriate rpm lever position. Feed forward pitch positioning and automatic load control ensure fast manoeuvring and optimum engine loading throughout the full operating range.
The PMC system capabilities meet or exceed the rigid operational requirements of the Inter-Island Ferry Authority and the demanding environment in which they operate.
The machinery alarm/monitoring system is a PMC IMACS (Integrated Machinery Alarm and Control System) machinery alarm and monitoring system. The IMACS is a technically advanced Windows based graphical user interface for machinery alarm and control functions. It seamlessly integrates with PMC's Omni Chief distributed control and monitoring system hardware.
The IMACS workstations and Omni Chief units, featuring layered redundancy with an redundant high-speed network connectivity, function independently without a centralized file server. The IMACS can summarize and network all the data that is collected from electronic engine packages, fire alarm panels, power management systems, motor controls, environmental controls and other electronic control systems throughout the vessel.
Pictures
---
Home
PRIME MOVER CONTROLS INC.
3600 GILMORE WAY, BURNABY B.C. CANADA V5G 4R8
TEL (604) 433-4644 FAX (604) 433-5570 email:info@pmc-controls.com