Quality Pneumatic Components
from the Basic to the Sophisticated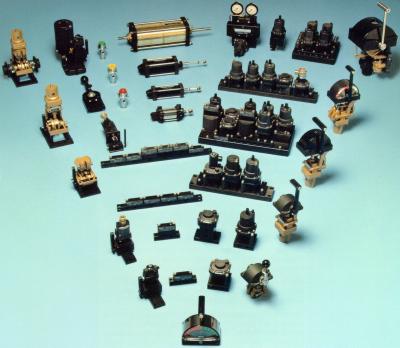 For Proven Performance and Reliability, Use PMC Controls.
There is No Substitute for Quality.
Pneumatic Technology is used extensively for marine propulsion controls. There are a number of good reasons for the popularity and wide acceptance of pneumatic controls.
Reliability is of great importance when choosing a propulsion control system. The probability of system failure without warning is extremely low. Trouble shooting and maintenance can be done by most marine engineers, as their training emphasizes an understanding of pneumatics.
Pneumatic controls cover a broad range of applications, from simple controls to elaborate systems with safety features and interlocks designed to minimize the possibility of damage to machinery.
Prime Mover Controls Inc. has been designing and manufacturing marine control systems since 1973. These systems have been refined and proven through many years of dependable operation.
PMC pneumatic marine control systems include propulsion controls for CP and fixed pitch propeller systems, thruster controls, and winch controls.
Some of the features available in PMC propulsion control systems are automatic load sharing and load control, controlled engine acceleration, dynamic braking, hydraulic, pneumatic and slip clutch control, shaft brake control, and various interlocks for versatile, safe operation.
Pneumatic Control Heads and Other Pneumatic Assemblies
---
Home
PRIME MOVER CONTROLS INC.
3600 GILMORE WAY, BURNABY B.C. CANADA V5G 4R8
TEL (604) 433-4644 FAX (604) 433-5570 email:info@pmc-controls.com