Winch Controls
PMC designs and manufactures components and complete control systems for a variety of different types of winches.
Dependable Precise Control
Control heads provide remote control for a wide range of marine and industrial applications.
Spring Centered Control Lever
Spring centering control lever is available on MCH-E and SCH-AA control heads.
Illumination
Optional illumination is available with a variety of scales for the MCH-E and RCH control heads. A single illuminated scale facing the operator is used to eliminate glare from the window.
Watertight
Completely watertight design allows outdoor installation, even on models with illumination.
Corrosion Resistant
Control heads and actuators are built with materials that are compatible with the hostile marine environment.
---
Shown below is a hydraulic power unit (pneumatically controlled) that was developed specifically for hydraulically activated winch brakes.
Hydraulic Power Unit
(Pneumatically Controlled)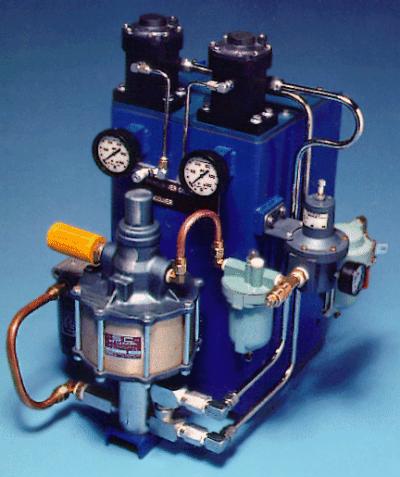 Type 1545
Features
Accurate control of hydraulic pressure.
Powered by low pressure air.
Produces high pressure output.
Ratios as high as 50:1.
One or two independently controlled hydraulic outputs.
Description
Hydraulic pressure is generated by an air driven reciprocating pump and very accurately controlled by a specially designed pneumatic - hydraulic relay. The hydraulic output pressure from the relay is proportional to a pneumatic pilot signal.
---
Home
PRIME MOVER CONTROLS INC.
3600 GILMORE WAY, BURNABY B.C. CANADA V5G 4R8
TEL (604) 433-4644 FAX (604) 433-5570 email:info@pmc-controls.com