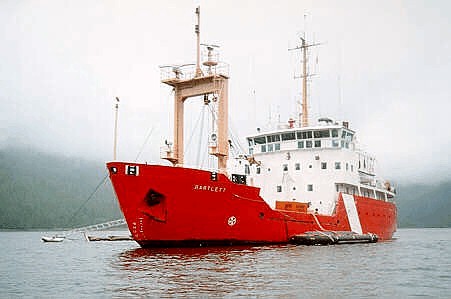 Canada - Coast Guard
57.7 m Medium Navaids Tender/Ice Strengthened
CCGS Bartlett
The PMC propulsion control system includes three bridge stations and one machinery control room station. At each station there is a dual lever remote control head, providing independent port and starboard control. Each lever provides combined control of pitch and speed. An electric shaft system interconnects all four stations, allowing bumpless transfer.
A PMC Type 5401 PCH lever style engine order telegraph is integrated in the control heads at the center bridge and the machinery control room stations for emergency backup communication between the bridge and the machinery control room.
The propulsion control system includes necessary logic and interlocks. Two touch screen panels located at the machinery control room station allow the operator to view operating parameters such as ENGINE rpm, FUEL RACK POSITION (ENGINE LOAD), SHAFT rpm, PITCH FEEDBACK, CLUTCH STATUS, CONTROL LEVER POSITION, and control signal failure alarms. The touch screens provide independent port and starboard user selectable set points for maximum rpm and maximum load.
The PMC D-MaC (Digital Marine Control) ensures maximum propulsion versatility. The fast, yet stable automatic load control maintains optimum loading on the engines. Pitch control is via bang-bang solenoids on the OD Box. Emergency jog pitch & rpm control system.
Additional PMC products installed on this vessel include:
Two Type 8502-9013 Pitch Indication Systems.
Two Type 8502-1041 Engine rpm Indication Systems.
Two Type 8502-1041 Shaft rpm Indication Systems.
One Type 8001 Machinery Alarm System (2 x 19" panels).
Two Temperature Indication System (RTD's, PMC Type 8502-9006 Signal Conditioners, Indicators) for engine fluids.
Two CPP pump control logic.
PMC also replaced all indicators in the existing machinery mimic in the engine room.
LOA.:
57.7 m
Engines:
2 × Mirlees-Blackstone KLSD M6 6 Cylinder
Power:
2 × 1565 kW @ 340 rpm
CP Props:
2 × LIPS
Governor:
Woodward PGA
Controls:
PMC Electronic Four Station Remote Control System with:

Drop in propulsion control and instrumentation plates.
Type 5400 dual lever propulsion controls heads with electric shaft and integral telegraph in three bridge stations and one machinery control room station.
Independant port and starboard touch screen panels located at the machinery control room station.
Electronic Speed Control
Electronic Pitch Control / Load Control
Pictures
---
Home
PRIME MOVER CONTROLS INC.
3600 GILMORE WAY, BURNABY B.C. CANADA V5G 4R8
TEL (604) 433-4644 FAX (604) 433-5570 email:info@pmc-controls.com