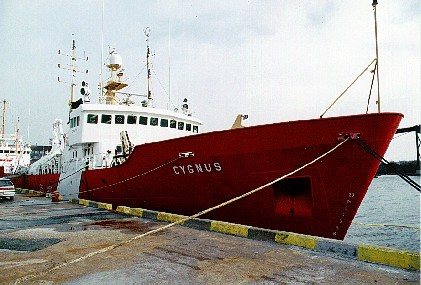 Canada - Dept. Fisheries and Oceans
62.5 m Offshore Fisheries Patrol Vessel
FPV Cygnus
The PMC propulsion control system includes three bridge stations and one engine room station. At each station there is a remote control head for combined control of pitch and speed. An electric shaft system interconnects all four stations, allowing bumpless transfer.
A PMC Type 5401 PCH lever style engine order telegraph is integrated in the control heads at the center bridge and the engine room stations for emergency backup communication between the bridge and the engine room with a telegraph repeater at the OD box control station..
The propulsion control system includes necessary logic and interlocks. A touch screen panel located at the engine room station allows the operator to view operating parameters such as ENGINE rpm, FUEL RACK POSITION (ENGINE LOAD), PITCH FEEDBACK, CLUTCH BLOCKED, CLUTCH STATUS, SHAFT TURNING GEAR ENGAGED, CONTROL LEVER POSITION, and control signal failure alarms. It also contains user selectable set points for maximum rpm and maximum load.
The PMC D-MaC (Digital Marine Control) ensures maximum propulsion versatility. The fast, yet stable automatic load control maintains optimum loading on the engines. Pitch control is via bang-bang solenoids on the OD Box. Emergency jog pitch control system.
Pneumatic speed setting to engine governors through I/Ps from D-MaC, port & stbd pneumatic speed control levers (existing, not PMC) function when engines de-clutched, and a local at OD box control station with local/remote lever and pneumatic speed control lever (one lever, controls both engines). PMC provide LAE clutch control logic with remote
Additional PMC products installed on this vessel include:
Three Type 8110 Tank Level Monitors, mounted in a bulkhead enclosure, providing continuous level indication for 23 tanks.
One Type 8502 Pitch Indication System.
One Type 8010 Navigation light control Panel
LOA.:
62.5 m
Engines:
2 × Wärtsilä Nohab 12 Cylinder
Power:
2 × 1640 kW
CP Props:
1 × LIPS
Governor:
Woodward PGA
Controls:
PMC Electronic Four Station Remote Control System with:

Drop in propulsion control and instrumentation plates.
Type 5400 single lever propulsion controls heads with electric shaft and integral telegraph in three bridge stations and one engine room station.
Touch screen panel located at the engine room station.
Electronic Speed Control/Load Sharing.
Electronic Pitch Control/Load Control.
Pictures
---
Home
PRIME MOVER CONTROLS INC.
3600 GILMORE WAY, BURNABY B.C. CANADA V5G 4R8
TEL (604) 433-4644 FAX (604) 433-5570 email:info@pmc-controls.com